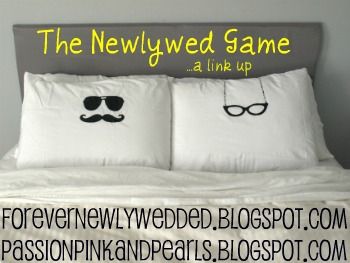 So...its the second week of the newlywed link up. I am in the bedroom sick and I am way to lazy to get up and ask the hubs for his answers so yall will be getting mine unless he trots his tail in here!
ONE:
What was it about your spouse that made you think they were "the one"?
He is super sweet and put up with my crazy antics...like farting on him on the first that after I fell off a couch!
TWO:What is your spouse's most annoying habit?
ME: He throws his clothes on the floor..drives me nuts
Look who showed up! Chris: She sucks her teeth when she is mad
(I do this on purpose)
THREE:Does your spouse have to sleep on "their side of the bed" and if so which side (if you're lying on the bed looking at the ceiling)?
C: I am on the right..I picked sides.
FOUR:How are you planning on spending your Valentines Day? (simple or outrageous?)
Me: I have to work that day so who knows.
C: no idea
(real romantic yall!)
FIVE:Who usually ends up trying to resolve an argument (aka being the "bigger person"?
Me: Me....we all know why that is ladies.
C: Me..do not let her lie.
SIX:How many kids do you plan to have one day, if any?
Me: We have 2 dogs for now. Lets see how that goes.
C: .....
SEVEN:What is your spouse's best friend's name? And do you get along with him/her?
Me: His best friend is Tony I guess....and not normally.
C: Jess S. and Jess P and yep.
EIGHT:If your spouse one day told you they were an ex-convict, how would you react?
Me: HAH That would be funny but for real...I have no idea.
C: That would never happen.
NINE:Do you wish your spouse would stop doing a particular routine?
Me: Staying up late when I gotta work the next day
C: yep...getting ready in the morning and making so much noise.
TEN:Did the honeymoon go exactly as planned?
ME: Heck no....we got stuck there a extra day and the locals are scary a crap. Jamaica is a scary ass place!
C: NO! Never going back there.